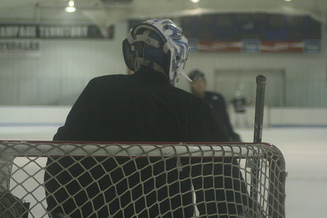 Louis Chabot will travel to your hockey Association.


Contact
Business Ph: 603 929-4967
Cell Ph : 978 758-2730
E-mail:
chabotshs@comcast.net

Goalie Seminar.

Introduction : This presentation will be based on Louis Chabot on 33 years of Professional
experience and involment coaching goalies at all level. Louis will discuss practical ideas for preparing and improving the goalie.
Theme: Providing your coaches a greater understanding of goaltending.

Highlights and topics of the goalie seminar
How to evaluate your goalie's present status.
Learning how to identify your goalie's weakness and how to improve the goalie's necessary skills
for competition.
Developing a coach/goalie relationship.
Planning your team's practice while improving your goalie's skills.
Learning how to built your goalie's confidence and mentall toughness.
Pre-game stretching and mental preparation.
Learning how to develop a highly effective pre-game warm up for your goalie and team.
Specific goalie skating development, and puck control.
Understanding the technique involved for specific saves.
Learning how to use video to enhance your goalie's development.
Off-Ice training drills.