The Weekly Goalie Briefing


Louis Chabot welcomes you.

2014 October Newsletter

Week 2

To: The Goalie Nation

BITE SIZE GOALIE INFORMATION


NUTRITION: What you eat before a game will determine how much energy you have and how well you perform.

CARBOHYDRATES: Pasta and whole grain which includes pumpernickel, rye, or whole wheat bread.
Carbs help to supply your body with energy to perform at high intensity.

PROTEIN: Lean meat, including chicken, turkey, or fish such as salmon, tuna, sardines or swordfish.
Protein helps rebuild tissue broken down while you are playing and also helps to supply you with additional energy.

FRUITS AND VEGETABLES: Potatoes, corn and dark colored vegetables are a good source of energy. Bananas, oranges, and apples are good choices for a pre-game snack. Fruits will provide you with additional energy and prevent hunger pains while you are playing.

PRE-GAME FLUIDS: Drink plenty of fluids before hitting the ice two to three hours before the game. This is necessary to avoid dehydration.

IN CLOSING: Avoid sugary and fried foods and high-fat foods such as whole milk or cream before any game.
Eat a large meal no less than four hours before game time and smaller meals or snacks two to three hours before game time.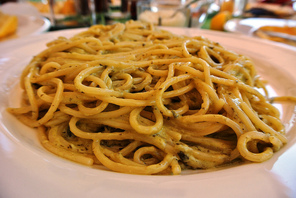 MENTAL TOUGHNESS: Is your ability to maintain your composure when the going gets tough. Your pre-game routine should include a positive vision about the game you are preparing to play. Avoid any pre-game distractions and stay on your game. Once the game starts, you are in your zone. When you allow a goal, don't push the panic button, instead move forward to the next puck. The next puck is more important than the goal you allowed. Make the next save !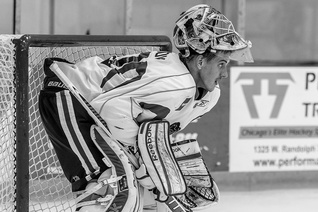 MENTAL IMAGING: Your pre-game prep should include a mental rehearsal. Visualize your past POSITIVE performance highlights, like the GREAT saves you accomplished ! By creating your positive highlight reel in your mind, you will gain needed confidence for the game you are about to perform in. Reduce any negative thoughts and stay in your positive mode. Your mental imagery should not focus on the outcome of the game, but on the actions to achieve the desired outcome.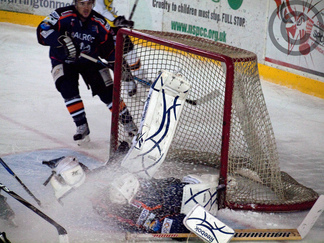 TIP OF THE WEEK: Track the goals you have allowed after each game. Bring with you a small notebook and pen to write down a detailed description of each goal.

1) Where did the shot initiate from ?

2) Type of shot, slap, wrist, backhand ? screen ? tip ?

3) Which area did the puck go in ? through you body ? which area on your body ? short side of net ? far side of net ?

4) here was your position on each goal allowed ? standing up ? while going down ? already down ?

5) what actions could you have taken to prevent each goal allowed (if any) ?

Louis Chabot
Editor of the Weekly Goalie Briefing
e-mail:chabotshs@comcast.net
Ph: 978 758-2730